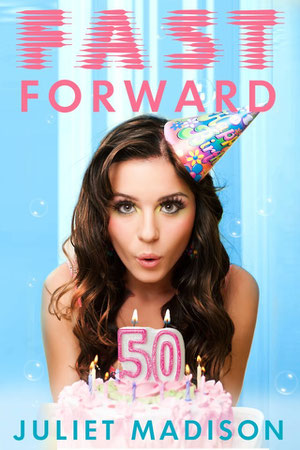 Thanks, Alissa, for inviting me to your blog today to talk about my soon-to-be-released novel FAST FORWARD. I'm super-excited and also glad that you and I are fellow Escape Artists! For those thinking, "Huh?", don't worry, I'm not talking about straightjackets or daring feats of underwater lock-picking, Escape Artists is the name given to authors published with Escape Publishing, the digital-first imprint of Harlequin Australia.
And I love that name, because I love writing (and reading) books that you can escape into; forget about the problems of the world for a while and get caught up in a new world with great characters and exciting possibilities.
So, down to business... On January 1st 2012 when I should have been taking it easy after New Year's Eve, my muse had other ideas. I was 'between books' and thinking about which story idea I'd like to explore next. One idea had the title of 'Fast Forward', and just when I was pondering what to write while flipping through a magazine, I came across an article called 'Fast Forward'.
And there was my answer.
So I opened my laptop and out poured the first couple of chapters. By June that year I'd finished the first draft. It was the first story I'd written in first person (being used to third person) but I found it a fun way to write. And just over three months later I was thrilled to receive an offer of publication from Escape.
FAST FORWARD is a story about ageing un-gracefully. I wanted to explore what would happen if a beautiful young woman (in this case, a model), suddenly woke up to find she'd aged twenty-five years overnight. It would be like her worst nightmare! So with an evil chuckle I created some horrifying and embarrassing circumstances to put my character into. All in the name of entertainment of course. I'm sure if she was real she'd forgive me. At least after exacting revenge by making me wear a hideous outfit and throwing me off a cliff. ;)
Here is the blurb:
Aspiring supermodel Kelli Crawford seems destined to marry her hotshot boyfriend, but on her 25th birthday she wakes in the future as a fifty-year-old suburban housewife married to the now middle-aged high school nerd.
Trapped in the opposite life of the one she wanted, Kelli is forced to re-evaluate her life and discover what is really important to her. Will she overcome the hilarious and heartbreaking challenges presented to her and get back to the body of her younger self? Or will she be stuck in the nightmare of hot flushes, demanding children, raunchy advances from her husband, and hideous support underwear forever?
I had a ball writing this book and I hope readers enjoy reading it. Here's a little excerpt to give you a taste of FAST FORWARD…
"Time for the special YouthMagic regenerating mask," Barb said. "This will penetrate deep to target wrinkles at their core, and work with the skin's own healing system to encourage collagen formation. In other words; reducing fine lines and adding firmness and radiance."
"Do you think you could put that on my whole body?" I asked.
Barb laughed. "We do have a YouthMagic body wrap, but that will have to be for another day," she said.
It didn't matter, I swear I could feel myself getting younger with each stroke of her hands, like she was wiping away the old and revealing the young me. Warm blood circulated through my skin as though I was lying on a Caribbean island soaking up the sun. Whatever was in this mask must be doing the trick. In fact, it seemed to be spreading throughout my whole body. My gown suddenly seemed too hot, like I'd been lying in the sun a bit too long. Maybe that was how this mask worked, giving the skin a rush of heat to eliminate the evidence of age. Only now I felt like I was lying in the sun and someone had rubbed chilli on my face. And then put me into an oven.
My heart raced and I squirmed on the bed. "What's in this stuff? I'm on fire!"
"Kelli, are you alright?" Barb removed her hands from my face and I sat upright, fanning my face with my hands, but they too were hot.
"What's happening to me?" My breathing quickened, and Elaine sat up too. Diora stirred slightly then released another snore. "Arghh! I need water, or a fan, or ice - something cold, quick!" I stood and turned this way and that while Barb urged me to sit down and take a deep breath.
I didn't listen, but went to the sink and splashed water on my face, undoing Barb's handiwork. I continued until all the mask was off, my face a dripping mess but still burning.
"Kel, calm down. You're probably just having a hot flush," Elaine said stiffly through a masked face, trying not to move her mouth.
"A what?" I kept fanning my face and Barb handed me a glass of water which I sculled instantly.
"Hot flush. You've been having them for a while now, since you started going through menopause."
Oh no, it can't be true. I'm fifty, a mother, a grandmother-to-be, and now I'm menopausal. I must have been a terrorist in a past life to deserve this. Why, oh why was this happening?
"Breathe slowly, Kelli, in and out," Barb instructed, as she massaged something cool onto my temples and then onto my wrists.
"Don't worry," Elaine said. "They'll gradually reduce in frequency and severity. Mine only lasted a couple of years then went away, about the same time as Peter left me. Funny that."
That's it.
If I could wish for anything right now, I'd wish to be a man. They have it so easy, they don't even realise how good they've got it. Bastards.
FAST FORWARD will be released worldwide as an ebook on February 1st 2013. To stay updated you can subscribe to Juliet's 'Loving Life' newsletter at http://www.julietmadison.com or connect with her online at her blog, facebook, and twitter pages.
Thanks again Alissa, I enjoyed visiting your blog! And congratulations on the release of WHAT LOVE SOUNDS LIKE J
Thanks so much for visiting!!