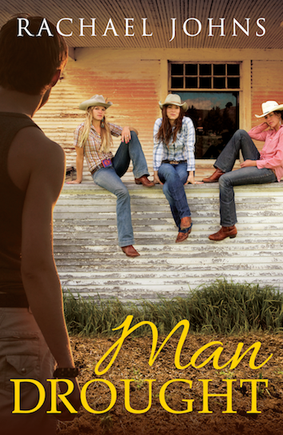 Welcome Rachael! Thanks so much for dropping by and answering my ten teaser questionsJ
 Night-owl or early-bird?
Definitely night-owl, although my kids don't like this habit and so it's slowly changing. Most of the time I'm awake well before six but I'm not happy about the fact!
Death by chocolate or diet coke?
HOW can you make me choose Alissa?! You know I like both. Seriously, I don't know if I could choose between them!!
 One food you would never eat?
This is an easier question, I'm quite fussy so could probably provide you with quite a long list but I'll go with SNAILS! Eugh L
What you wish your mother had told you?
Hmm… I'm coming up blank. My mother was always pretty open with me. There's a lot of things she could have kept from me (but that's a whole other blog post) but she didn't.
One book everyone should read?
Bridget Jones' Diary – I have to say this because this is the book that brought me back to reading after a hiatus in high school!
Your ultimate hero (fictional or not)?
I'm not going to name anyone in particular – but I like a man who is kind-hearted, hardworking, loves being outdoors, rides a motorbike but doesn't have tattoos and if he's good-looking, that's an added bonus.
Your ultimate heroine (fictional or not)?
Bridget Jones – see above. How can anyone not feel for Bridget?!
A hobby/bad habit that you spend way too much time on?
I'm not going to say the first thing that came into my mind – you guys would never look at me the same again J Probably surfing the Internet checking out my Amazon ranking – totally futile since there's nothing I can do about it, and it would be much better to write the next book.
Favourite line of dialogue from your recent release or WIP?
"Just so you know, I never sleep with a woman on the first date."
            "Those questions? I was merely being polite." She raised her chin a little and looked him dead in the eye. "And just so you know, I never sleep with charmers, so it looks like we're both safe."
*This is from THE KISSING SEASON my recently completed novella.
 Three lines from page 13, 113 or page 133 of your recent release or WIP?
Imogen tried to concentrate as a warm hand landed on her back, helping to guide her through the crowd towards the bar. Her spine fizzed with the sensation – a feeling she'd never expected to experience again. Without a doubt, the hand was Gibson's. (From MAN DROUGHT)
And now for the biggest teasers of all, blurbs from Rachael's latest TWO new releases.
 Blog – www.rachaeljohns.wordpress.com
Website – www.rachaeljohns.com
Twitter - https://twitter.com/RachaelJohns
Man Drought – January 1st 2013, Harlequin Australia (currently only available in Aus/NZ territories)
Imogen Bates moved to the small rural town of Gibson's Find to start a new life for herself after the death of her husband. Tired of being haunted by the painful memories of her old life, Imogen set her last remaining hopes on the little town and, in particular, pouring her heart and savings into restoring The Majestic Hotel to its former glory. But while the female-starved town might be glad to see a young woman move in, not everyone is happy about Imogen's arrival.
Sheep and crop farmer Gibson Black once dreamed of having the kind of family his grandfather reminisces about, but he's learnt not to dream anymore. Living in the mostly male town suits Gibson down to the ground...and he won't have anyone — least of all a hot redhead from the city — change a thing.
Imogen has never been one to back down from a challenge, especially when it concerns her last chance at happiness. She's determined to rebuild the pub and create a future for the little town. But can she create a future for Gibson and herself, too?
To buy links:
Amazon: http://www.amazon.com/Man-Drought-ebook/dp/B00AB9VS0G/ref=sr_1_1?s=digital-text&ie=UTF8&qid=1354267465&sr=1-1&keywords=man+drought
Harlequin Australia: http://www.harlequinbooks.com.au/product/9781460892978
STAND IN STAR – January 7thst 2013, Carina Press
As an anthropologist, Holly McCartney is more comfortable in a museum than shopping on Rodeo Drive. She isn't prepared for the media frenzy on her arrival in L.A. to accept a posthumous acting award for her late sister….or for her sister's gorgeous friend Nate Devlin to come to her rescue. Though he resents her for some reason, she can't fight their irresistible chemistry—especially when the paparazzi force her to stay at his mansion.
Photographer Nate only agrees to help Holly survive Hollywood for her sister's sake, but she soon gets under his skin in a way no other woman has. The more time he spends with her, the more his attraction grows and he finds himself opening up to her in ways he never expected. But will ghosts of the past stand in the way of their perfect Hollywood ending?
To-buy links:
Amazon - http://www.amazon.com/Stand-In-Star-ebook/dp/B00A22UVJQ/ref=sr_1_1?s=digital-text&ie=UTF8&qid=1354516932&sr=1-1&keywords=stand-in+star
Barnes and Noble - http://www.barnesandnoble.com/w/stand-in-star-rachael-johns/1113832187?ean=9781426894909
Carina Press – http://ebooks.carinapress.com/AE8854D0-A46D-4313-926A-F5A35553A6F9/10/134/en/ContentDetails.htm?ID=1CF30CE0-647B-44D8-8A96-5EEF7044BB18