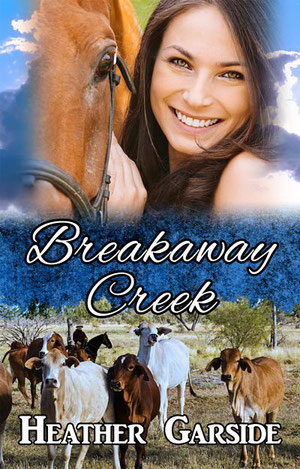 Welcome Heather! Thanks so much for stopping by and answering my ten teaser questions.
Night-owl or early-bird?
I'm more of an early bird than a night owl. Having said that, I'm not usually up at the crack of dawn, either!
Death by chocolate or diet coke?
I would have to say chocolate. It would be death, too, as unfortunately my diet has to be mostly sugar-free these days. J What a pain!
One food you would never eat?
Insects of any kind! Apparently a delicacy in South America and Thailand.
What you wish your mother had told you?
How men's minds really work.
One book everyone should read?
Since my mind has gone blank on this one, I'll have to say Breakaway Creek.
Your ultimate hero (fictional or not)?
Hawkeye from Last of the Mohicans
Your ultimate heroine (fictional or not)?
Cora, Hawkeye's love interest from the movie, also makes a wonderful heroine
A hobby/bad habit that you spend way too much time on?
Playing Solitaire
Favourite line of dialogue from your recent release or WIP?
From Breakaway Creek:
'When I heard about the job here, I pictured a pair of desperate and dateless hillbillies. Then I met you and that notion didn't fit. Now you're making me think again.'
Three lines from page 13, 113 or page 133 of your recent release or WIP?
From page 113 of Breakaway Creek:
George stopped and took her arm, turning her to face him. He looked very serious.
'Be very certain if you decide to marry him, Emma. Because it will be difficult. If you're not sure, you'd best forget him.'
Thanks so much Heather. It was an absolute pleasure to have you visit. And if the above Breakaway Creek teaser wasn't enough here is the whole fabulous book blurb:
Betrayed by her long-term boyfriend, Shelley Blake has fled the city to return to her home town. Her interest in a photograph of her great-great-grandparents is piqued by her family's reticence about the mystery couple, and a search for answers takes her to the cattle station Breakaway Creek.

Here she meets Luke Sherman, a man embroiled in the bitter ending of his marriage and a heart-breaking separation from his two small boys.

Shelley resists an instant attraction to Luke, as neither is ready for a new relationship.

And, while Luke struggles to reclaim his children, Shelley uncovers the truth about her ancestors, Alex and Emma.

A story of racial bigotry and a love that transcends all obstacles takes the reader back to the pioneering days of the 1890s.
Author website: www.heathergarside.com
Buy links:   http://clandestinepress.com.au/content/breakaway-creek
http://www.amazon.com/Breakaway-Creek-ebook/dp/B00D43BUI6/ref=cm_rdp_product
Now does anyone have their own teaser questions to ask Heather?