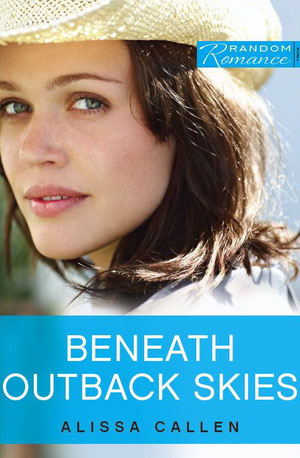 The lovely Lily Malone asked me to join in on the Avon Tasty Summer Read blog hop  that features five questions about a WIP or new release and then finishes with a sumptuous summer recipeJ

My Aussie summer release is Beneath Outback Skies. A rural romance featuring an indomitable young woman determined to save her family farm, and the city-boy who is not all he seems...

My five answers

1)When writing are you a snacker? If so, sweet or salty?
Hands down I'm a sweet snacker – anything that contains chocolate won't stay very long on my pantry shelf let alone beside me on my office desk.

2) Are you an outliner or someone who flies by the seat of their pants?
Are they real pants or jammies?

An outliner but once plot ducks are all in a neat row then put on my 'flying pants.' And until have waved kids off to school such pants are very much cosy jammie ones.

3)When cooking or baking, do you follow the recipe exactly or wing it?
If it is a new recipe follow it pretty much as per instructions but if it is a familiar one just wing it and hope haven't jumbled two recipes together.

4) What is next for you after this book?

Another ruralJ Down Outback Roads is set in the same area as Beneath Outback Skies and also features the bush community of Glenalla. Am having so much fun writing a new
story full of romance, red dust and secrets.

5) Last Question...on a level of one being slightly naughty to ten being
whoo whoo steamy, where does your book land?

Am a Pisces so am in no way decisive – maybe a 6?

My summer recipe
In Beneath Outback Skies, the heroine, Paige Quinn doesn't have time to cook. Too busy
out in the paddocks battling the drought it is her father, Connor, who is the
king of the kitchen. However, her pretty city-boy guest, Tait, surprises her
one night while camping out. Tait whips up a simple but tasty meal of kebabs
followed by roasted marshmallows. This kebab recipe is a summer favourite
of my kids – even though the dogs do still seem to end up with anything green.
Kebabs
Ingredients:
500gm beef steak, trimmed of fat and cut into cubes
Any favourite vegetables also cut into cubes or chunks – capsicum (peppers), onion, cherry tomatoes (use whole), zucchini, mushrooms, pineapple
Marinade - 4 tablespoons olive oil, 4 tablespoons red wine vinegar, 1 clove minced garlic, touch of black pepper and then any handy herbs (dried – add ¼ teaspoon) or fresh. 
Alternatively browse the grocery shop aisle for a readymade marinade.

Method:
Soak bamboo sticks in water. Mix marinade together and add meat, making sure all the cubes are coated. Refrigerate and allow meat to marinate for minimum of 30 mins.

On wet bamboo sticks assemble kebabs, alternating meat with a vegetable. Leave a small space between pieces to allow for even cooking.
Roast on a barbecue or grill until meat is done. Rest for a few minutes before serving. Enjoy.

Now instead of tagging 5 other authors am issuing an open invitation for anyone who
would like to play to post their own five answers and delicious summer recipe on their blogJ